Presentation Plan and Play, Play and Plan
Monday 20 May in London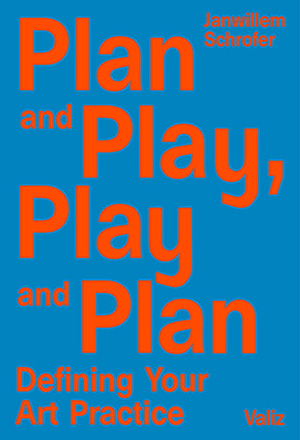 Valiz and Camberwell College of Arts present an evening programme around the book Plan and Play, Play and Plan: Defining Your Art Practice, together with author Janwillem Schrofer, former director of the Rijksakademie.
What: Book launch, additional program
When: Monday 20 May 2019, 5.30 pm
Where: The Lecture Hall of Camberwell College of Arts, 45-65 Peckham Rd London, SE5 8UF
With: Janwillem Schrofer
Language: English
This programme is free and open to the general public.
---
Visual artist' is a term with untold interpretations, nuances, variations and meanings. But how, as an artist (or designer, photographer, or other 'independent creator'), do you become who you are and who you would like to be? How can you guide your artistic practice, the main criterion being to answer the question: "where do I stand and what do I stand for?" Plan and Play, Play and Plan invites the artist to reach considerations, often based on analytical models, that will help to determine his/her position.
The programme at Camberwell is divided into three parts. First, Janwillem Schrofer will introduce the book in a short lecture. He will then conduct a short exercise from the book together with the public. Lastly, he will talk to three artists at different stages of their career about how they guide their own artistic practice.