Special Event | The Trade of the Teacher
27 September 2018 at De Groen Fine Art Collection, Arnhem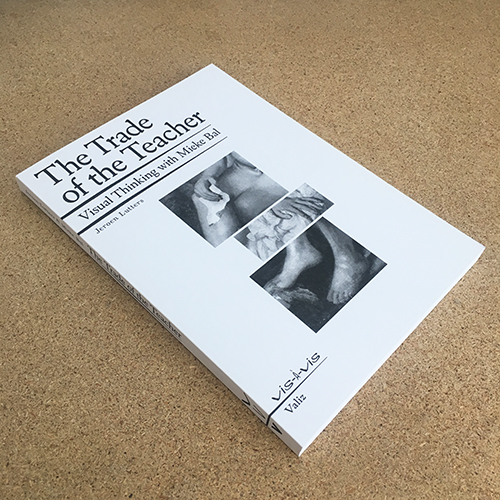 NB: This event was previously announced but has unfortunately been cancelled. It might be rescheduled to a later date.
What: Video installation and a conversation between Mieke Bal and Jeroen Lutters
When: 27 September 2018, 18:00 | NB: Cancelled!
Where: De Groen Fine Art Collection, Weverstraat 40, 6811 EM Arnhem
With: Mieke Bal and Jeroen Lutters
Organized by: Valiz and De Groen Fine Art Collection
Language: English
Mieke Bal is a cultural theorist, critic, video artist and occasional curator. She co-founded the Amsterdam School for Cultural Analysis and has published 38 books, including A Mieke Bal Reader (2006), Quoting Caravaggio (1999) and Narratology (1985).
Jeroen Lutters is an art and cultural analyst and educational designer. He concentrates on the central role of the arts and humanities in the contemporary curriculum, and practice of art-based learning. He is a professor at ArtEZ, University of the Arts, Arnhem.
---
In june 2018 The Trade of the Teacher was launched, about Mieke Bal's ideas on teaching. Over a number of meetings Jeroen Lutters and Mieke Bal engaged in a conversation on the art of teaching. Looking for a dialogue that would also touch on the role of visual art, Lutters brought in paintings by Banksy, Rembrandt, Marlene Dumas, and George Deem as 'teaching objects'—one for each conversation. He asked Mieke Bal what these paintings might have to say about teaching. The result is The Trade of the Teacher: Visual Thinking with Mieke Bal, the first book that centers around Bal's ideas on teaching, education and mediation. It is also a personal, meandering, and precise account of Mieke Bal's way of thinking through visual art and literature, and how she exchanges her ideas about this with students and colleagues. The Trade of the Teacher will hopefully serve as a source of inspiration to students and teachers—especially in the arts and the humanities—who are longing for a counter-voice in a complex educational arena.
On the occassion of this publication, a special program has been organized. Mieke Bal and Jeroen Lutters will have a conversation inspired by the book and there will be an installation of video works by Bal herself. Come and join us on this special evening!