Contemporary Artist Residencies
Reclaiming Time and Space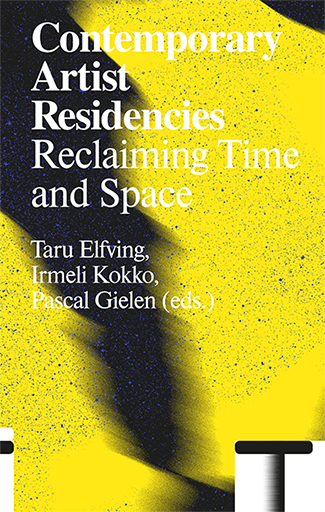 UNAVAILABLE
Examines the present and potential function of residencies for artists, the art world and society
How do social, ecological and geopolitical changes affect the artist residency?
Editors: Taru Elfving, Irmeli Kokko, Pascal Gielen
Design: Metahaven
Series: Antennae-Arts in Society
2019, Valiz | in collaboration with Frame Finland, University of the Arts Helsinki; suported by Kone Foundation and Saastamoinen Foundation | paperback | 272 pp. | 21 x 13,5 cm (h x w) | English | ISBN 978-94-92095-46-6
Press
Book review of Contemporary Artist Residencies in Boekman
---
>Artist residencies provide space, time, and concentration for making art, doing research and for reflection. Residencies are crucial nodes in international circulation and career development, but also invaluable infrastructures for critical thinking and artistic experimentation, cross-cultural collaboration, interdisciplinary knowledge production, and site-specific research. The globalization process and the demands of the creative economy have had an impact on artist residencies. Ecological and geopolitical urgencies are now also affecting them more and more. In response, many residencies today actively search for more sustainable alternatives than the current neoliberal condition allows for artistic practice. With a range of critical insights from the field of residencies, this book asks what the present role of artist residencies is in relation to artists and the art ecosystem amid transformations in society.
Contributors: Livia Alexander, Nathalie Anglès, Helmut Batista, Taru Elfving, Pascal Gielen, Francisco Guevara, Maria Hirvi-Ijäs, Jean-Baptiste Joly, Patricia Jozef, Irmeli Kokko, Donna Lynas, Antti Majava, Vytautas Michelkevičius, Marita Muukkonen, Nina Möntmann, Jenni Nurmenniemi, Bojana Panevska, Florian Schneider, Ivor Stodolsky, Alan Quireyns