CAPS LOCK: Is there ethical graphic design possible under capitalism?
13 January 2022, online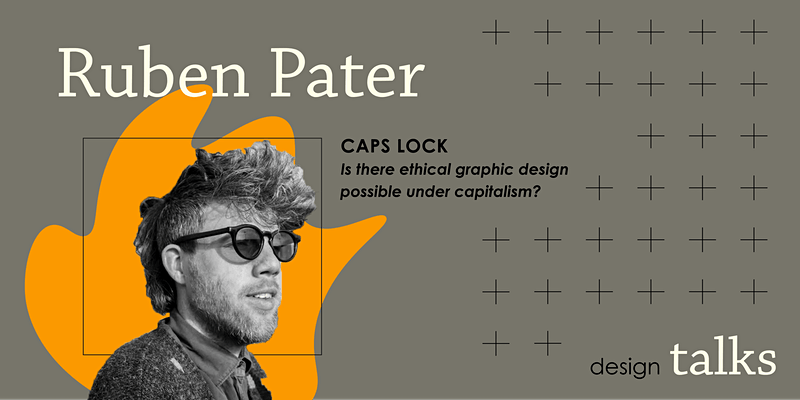 An online lecutre by Ruben Pater about his book CAPS LOCK
Hosted by DePaul University
What: Lecture
With: Ruben Pater
When: 13 January 2022, 12pm-1:30pm CST
Where: Online - register here
Hosted by: DePaul University
Language: English
Admission: Free
---
DePaul Design Talks welcomes designer, writer, and educator Ruben Pater.
Capitalism could not exist without the coins, notes, documents, graphics, interfaces, branding and advertisements; artefacts that have been created by graphic designers. Even anti-consumerist strategies such as social design and speculative design are being appropriated within capitalist societies to serve economic growth. It seems that design is locked in a system of exploitation and profit, a cycle that fosters inequality and the depletion of natural resources. CAPS LOCK uses clear language and striking visual examples to show how graphic design and capitalism are inextricably linked. Each chapter is divided into coherent articles in which diverse examples of objects and design practices are relayed. The book also features examples of radical design collectives, that work towards alternatives between design, community and reciprocity.
About Ruben Pater
Ruben Pater (1977, NL) works between journalism and graphic design. Under the name Untold Stories, Pater creates visual narratives that support solidarity, justice, and equality. Pater finds himself being a designer at a time when design is last thing the world needs. Until more ethical approaches present themselves, he designs, writes, and teaches. He is a tutor at the BA Graphic Design, and the MA Non Linear Narrative at the Royal Academy of Art in The Hague. The Politics of Design (BIS, 2016), is his first book about cultural bias in graphic design. His second book CAPS LOCK (Valiz, 2021) retraces the role of graphic design in capitalism. Pater is based in Amsterdam, the Netherlands. www.untold-stories.net